BOOK NO.3: A MATTER OF TIME
THE THIRD AND LAST BOOK OF MICK BRIANT'S TRILOGY.
PART TWO OF MICK BRIANT'S PERSONAL STORY OF THE MOTORING NEWS CHAMPIONSHIP – 1976 to 1980.
Having collected so much great material on my travels, l was faced with a very real dilemma about what should l include but, more importantly, what l should NOT INCLUDE. Even after drastically editing down, l was left with far more material than would fit in the book; in fact, it would more than fill two books – and there lies the clue.
A TWO-VOLUME SET

– THE GREATEST COMPILATION OF ROAD RALLY PHOTOGRAPHS EVER SEEN.
1,500
photographs and

200,000

words in total plus contributions from

218

drivers and navigators of the period. All set using a special fifth colour.
A TRULY MAGNIFICENT TWO-VOLUME BOOK. THE MOST POWERFUL BOOK EVER TO EMERGE ON BRITISH ROAD RALLYING.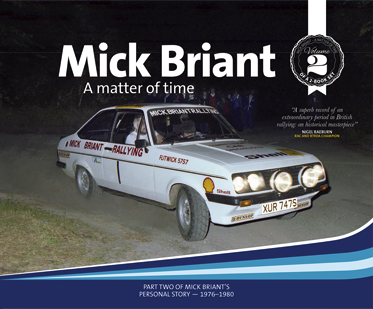 1962 Champions, Tony Fisher and Brian Melia
1971 Champions, George Hill and Keith Wood
1981 Champions, Ron Beecroft and John Millington
1984 Champions, Gwyndaf Evans and Edwyn Evans